NOT JUST ANOTHER DOG BLOG!
So, if you're the kind who believes partying hard over the week-ends is the ultimate stress buster, you're um…. right! But with a throbbing head from last night's hangover and drooping eyes that burn as they turn redder while staring in to the monitor, things at work can get uh… well? Kind of challenging at work. No doubt!
Now that you're reminded of last week's scenario and are presumably nodding your head in agreement; read on and get ready to get enlightened about an alternative week-end remedy that can keep you high on satisfaction all week long, open your eyes to a world you've barely known anything about and give yourself and the people close to you a truly enjoyable experience.
Last week-end, Team 9 decided to get out of our comfort zone (Indiranagar), driving all the way out Bhattarahalli, located near the Bangalore International Airport. There we met, Karthick, the man in charge of taking care of neglected animals rescued by the NGO he serves. 'Simba's Run' is an NGO which is currently home to about 35 dogs and 3 cats. And at this pet heaven that sits in the middle of vast green fields, each adorable pooch arrives with its own not so sweet story that's shared with volunteers. Karthick narrated to us how their latest four-legged member was rescued, "She was hit by a car on the highway, we then rushed her to the vet to get her wounds sutured… So Yup, this girls been here with us since Friday."
But assuming that all dogs at Simba's Run were in a pitiful state couldn't be further away from the truth. Our team was greeted with some overwhelming puppy love from all the pups and dogs that seemed to be very welcoming to visitors. The NGO, also makes for a great learning experience for not just adults but for children as well. As volunteers, we began by filling buckets of water, followed by squeezing out some dog shampoo on to our palms, and then started working the lather in to the fur of Rottweiler and stray dogs. While some of them sat calmly throughout their entire bathing ordeal, there were also those very mischievous ones that leaped out of the tub and headed straight for the exit and chose to roll about in the mud and sun-bathe instead.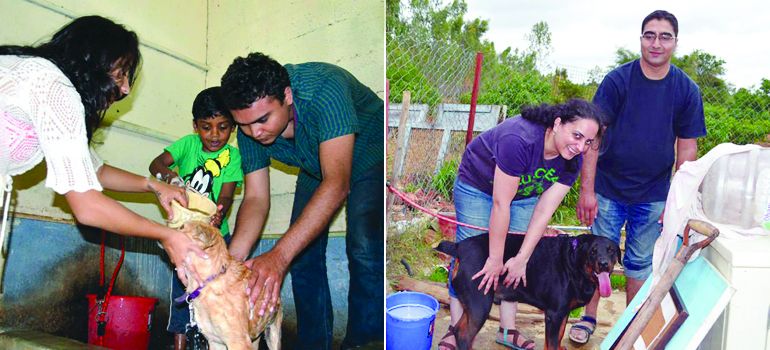 Pampering the pups
Towards the afternoon, the Circuit 9ers began raking up some soil to plant a variety of marigold seeds, which we hope to witness the 'flowers of our labor' someday? All in all, this half-Sunday spent at Simba's Run couldn't have been spent doing anything more worthwhile. The experience gave us an insight in to the passion and commitment it must take for someone like Karthick to dedicate his life to the NGO's ever growing family of rescued dogs. And not to forget, the experience also left in us a deeper sense of affection toward any and every animal.